Temperature Sensors with 4-20 mA Output and Liquid-Tight Conduit Fittings
Features
• 2-wire, loop-powered 4-20 mA analog output
• Attachment probe, sensor, 2-wire 4-20 mA signal conditioner
and conduit fitting in one
• No user calibration: works right out of the box
• Compatible with PLCs, meters, data acquisition, and hazard monitoring systems
• Reverse-wiring protected
• Integral 1/2 in flexible liquid-tight conduit fittings
• Optimized for Class II area hazard monitor systems (e.g. grain, coal dust)
• FM approved, Dust Ignition-proof. Class II and III, Div I (E, F, G); NEMA 4
• Available Zerk Accessories
TT420-LT temperature probes and fittings are optimized for shaft bearing (TT420Z-LT), belt rub-block (TT420S-LT) and other temperature measurement applications. All models have integral liquid/dust-tight conduit fittings allowing complete sensor and cable segregation and protection.
2 model families for temperature monitoring
TT420S-LT* - 3/8 - 16 threaded stud probe (e.g. belt-alignment rub block temperature)
TT420Z-LT* - 1/4 in stainless steel probe with 1/8 NPT adapter (e.g. zerk grease fitting for bearing temperature)
* Probe and cable length, straight and right-angle options are available. A lug-mount adapter is available for TT420S-LT.
Optional Magnet Mount Adapter for TT420S-LT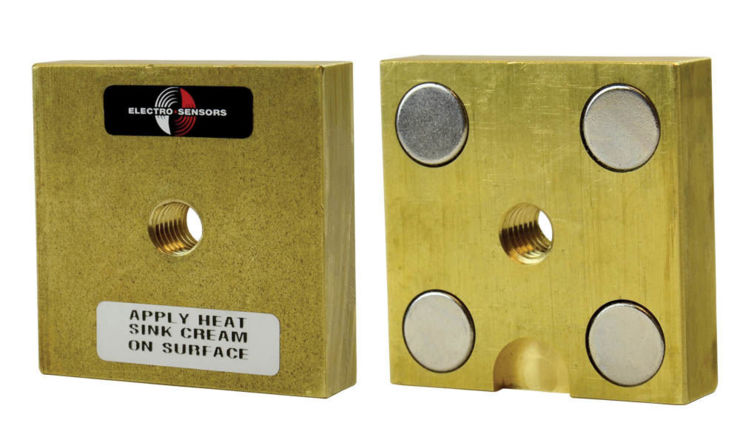 • Accepts 3/8-16 UNC sensor thread (TT420S-LT only)
• Used when permanent mounting is not practical or not possible
• Solid brass for rapid temperature conduction
Application Links