Shaft Speed Sensor
Features
FM Approved Intrinsically Safe (IS) Class I, Div 1, A → D; Class II Div 1 E→G; Class III A Ex / Ex ia II c
NEMA 4X, IP 65
Options:
Housing:
- Basic Corded
- M12 Eurofast Connector
- ½ NPT Female Conduit Port
- ½ Flex Liquid-Tight Conduit Fitting
Sensing (Hall Effect, Magnetoresistive)
Signal (Single or Quadrature)
Output (NPN or PNP)
Termination (Open-Collector or Terminated)
Cable length
Temperature (Standard or Wide Temperature)
Series 18 sensors detect passing magnets of a shaft-mounted pulser disc or wrap and output a voltage pulse frequency directly proportional to the shaft rotation speed. All models work with all Electro-Sensors pulser targets (discs and wraps) and operate down to zero speed. All models have rugged stainless steel M18x1 housings, epoxy-filled and sealed against liquids/dust and come with two stainless steel hex jam nuts and a bracket.
Many housing, sensing, signaling, output, cable length and temperature options are available (see below).
Building a Model Number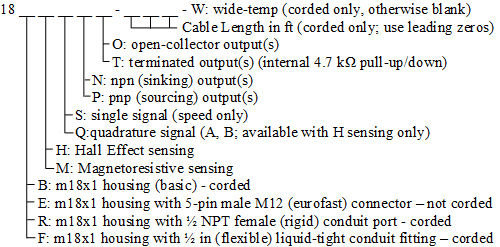 Examples:
18BHSNO-010: Basic housing, Hall Effect, single signal, npn, open-collector, 10 ft cable
18EHQPT: Eurofast housing, Hall Effect, quadrature signal, pnp, terminated
18RMSPO-025-W: ½ NPT conduit housing, Magnetoresistive, single signal, pnp, open-collector, 25 ft cable, wide-temp.
---
Optional EZ-18mm Easy Sensor Mount
(see EZ-18mm page for more details)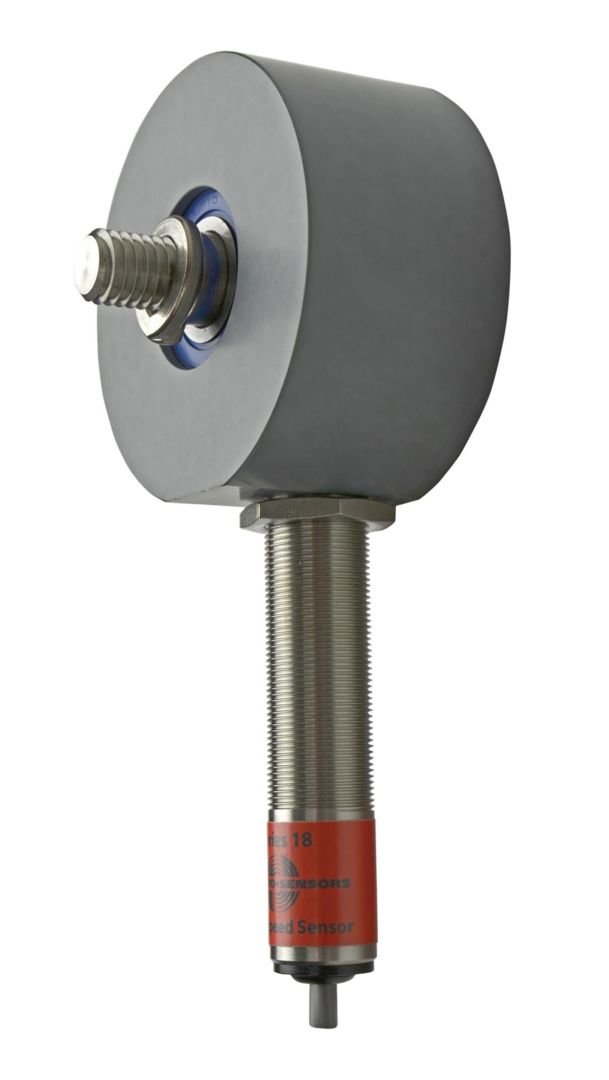 Features
• Mounts directly to the tapped shaft
• Can be used with optional Mounting Magnet if shaft is not tapped
• Pulser disc is included (8 PPR) with optional EZ-18mm unit
• EZ-18mm is for Series 18, ST420 Series, and SpeedTalker Sensors